SNACK TICK!!!
A downloadable game for Windows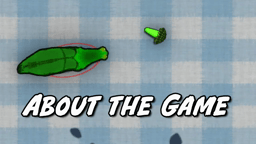 In order to survive as an Alien Insect, you have to obtain sustenance, find cover and avoid the bigger Aliens! In this Multiplayer party Adventure, players will be able to take control of various bugs with different abilities in a variety of locations.
Snack Tick is a Party Collectathon Adventure Game. You or up to 4 Players will go through various locations, as unique Alien Insects while facing off and avoiding a multitude of threats
PLOT:

As part of an Invasion of Aliens that have arrived on Earth, your goal is collect enough food and supplies for the Supreme Queen Nomi! On your journey, your group has encountered a courtier of threats that are on the offensive. Not to worry, you will also gain assistance from your comrades up in space with the help of Aitemus, Powerups that will temporarily give you an advantage in surviving.
This Local Multiplayer Adventure is available to Purchase above on Steam, you can also check out the original Game Jam Version or the Early Preview at the Local Multiplayer (Which supports PS4, Xbox and Keyboard Controls)!

FEATURES IN THE FULL GAME:
• 10 Playable Aliens, each with their own Unique look and Perks.
• Missions for each Alien, set within different locations and scenarios.
• Customisable Multiplayer with enough options for unique sessions that keep on changing every time you play.
• Powerups that give you an advantage and could give others a Disadvantage
WITH MORE CONTENT ON THE WAY!
(Gameplay footage is from Early June 2020 Build)
(Screenshots may vary as they are taken at different stages of development)


Download
Click download now to get access to the following files:
Snack Hunter - Game Jam Version (March 2020 Build)
23 MB
Snack Hunter_Local Multiplayer_Early Access (April 2020 Build)
28 MB
if you pay $1 USD or more